Events in the Partner Ecosystem
June 5, 1 PM ET  – RevGenius x PartnerHacker. Discover the strategies, including the combination of content and community, the significance of storytelling over numbers, and the paradigm shift from the "how" to the "who" economy. Register here.
June 7, 12 PM ET – Why is Everyone Talking About Nearbound? Join Jared Fuller and Scott Pollack as they discuss the future of Nearbound. Register here.
June 15, 12 PM ET – No B.S. Guide to Co-Selling Millions with Partners (from partnership people who've really done it). Chris Lavoie, Rob Rebholz, and Justin Zimmerman will share the real-world sh*t that works. Register here.
Jun 23, 1 PM ET, Unf*ck My Funnel – There is no funnel too f*cked! Join Jared Fuller & Jared Robin as they team up to right go-to-market wrongs and improve the lives of revenue pros everywhere. Register here.
June 27th, 17:00 - 21:00 CET – Partnership Leaders x Reveal: Elevation Tour - Europe – Aircall's Office, 11 Rue Saint-Georges, 75009 Paris, France. Register here.
June 28, 2PM ET – HubSpot is hosting "The Co-Marketing Playbook" for Tech Partners! Learn how Justin Zimmerman (Partner Playbooks), Michael Cole (Everflow), Cori Kendrick (Clickup), Isaac Smith (ON24) generate MQLs thru/with partners. Hosted by Kelly Sarabyn (Hubspot). Register here.
---
Past PartnerHacker events
How We Incentivized Resellers to Grow Our Program by 26% – PartnerHacker x Magentrix – Learn how Magentrix activated their partners to increase the pipeline! Register here.
Surviving and Thriving in 2023 – 5/11/23 – Unveiling the Secrets to Unbeatable Customer Retention and Win-Back Strategies.
Emilia Janis, Jared Fuller, Crevan O'Malley, and Andrew Thomas joined a live discussion to explore the critical roles that customer retention and win-back strategies play in driving business growth in today's uncertain environment.
Leveraging Nearbound Data in HubSpot - 4/26/23 – You've got partner data - now what? Why is Nearbound data so significant? Connor Jeffers, CEO of Aptitude 8 and hapily, along with our own Jared Fuller, unpack the secrets of Nearbound, and how you can win in 2023.  Watch the replay here.
War Stories with Legends - 3/10/23 – Jared Fuller interviews legends of B2B SaaS, Peter Caputa, and Jill Rowley. Peter Caputa built HubSpot's agency program before executive alignment was ever established, and Jill Rowley won one of the most important deals in Eloqua's history by partnering!

Kick back and hear how they did it.
Nearbound.com - February 22, 12 - 1 PM Eastern Time. We published the first-ever tactical step-by-step guide for sellers, managers, operations, partnerships, people, and leaders to work together to define the tactical plays for Nearbound sales.
The Partner Success Maturity Model - Friday, February 10th 2023 - PartnerPage and PartnerHacker unveiled the Partner Success Maturity Model, together.
The Partner Ecosystem Kickoff 2023. This event took place on January 17th, 2023.
The European Partner Moment. This event took place on Friday, Dec 2nd
PL[X] Summit - Partner Led Everything. The world's largest B2B SaaS partnerships event ever! (Recorded November 7 -11, 2022)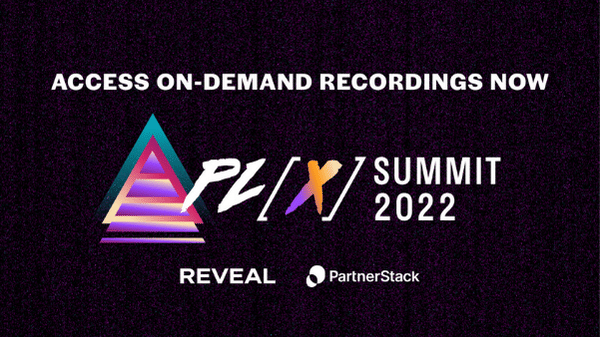 School of Partnerships: Building, Activating, and Repairing your Program with Firneo (Recorded September 28, 2022)
What Agencies Want (hint: it's not revenue share) with PartnerPage (Third Thursday Recording, September 22, 2022)
Size Isn't Everything: How Small Programs Win Big Partners with Kiflo (First Friday Recording, August 5, 2022)
Ecosystem Week with PartnerStack
The Death of Portals Live Debate